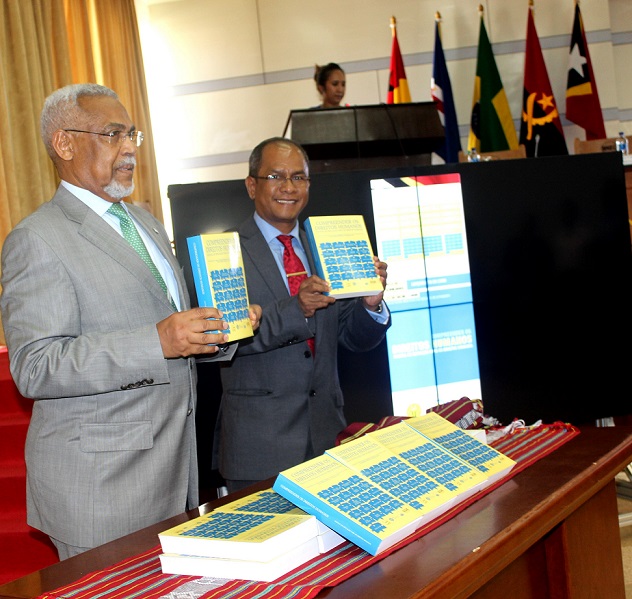 Dili – Dr. Silverio Pinto Baptista, the Provedor, and Dr. Murade Murargy, the Executive Secretary for the CPLP launched a book with the title "Understanding Human Rights – a Manual for Human Rights Education" at the Nobre Meeting Room of the Ministry of the Foreign Affairs and Cooperation in Dili, Timor-Leste, on 21 July 2015.
This launching program was conducted by the PDHJ in cooperation with the National University of Timor Loro'sae including with the collaboration of the Executive Secretariat of the CPLP in Lisbon. During the official launching of the book, there were various interventions from the entities relevant to the area of human rights, including a presentation on the content from the authors of the book. The authors are Dra. Carla de Marcelino Gomes, Dra. Rita P. dos Santos and Dra. Delia Belo.
Dr. Silveiro Pinto Baptista, the Provedor, in the opening ceremony said that the launching of this book was of a great significance as Timor – Leste at that moment was leading the CPLP meeting; therefore the PDHJ used that opportunity to launch the book.
The Provedor continued: "This book becomes a reference to the CPLP countries, including the Government of Timor-Leste, also the PDHJ staff themselves can make use of this book in providing capacity building as well as a reference for the students of the National University of  Timor Lorosa'e, especially for the Law Faculty".
During the launching, some participants asked the authors to provide a translation for the book in Tetum Language to facilitate the readers to more understand Human Rights.
The Executive Secretary for the Community of Portuguese Speaking Countries (CPLP), Dr. Murade Murargy, said he felt honored by the launching of this book as it could facilitate the citizens in understanding well the Human Rights. Dr. Murade hoped the book to be a reference for all the Timorese people as well as for the CPLP members.